Why Eat Peanuts
Super food "peanuts or groundnuts" are filled with treasures of health boosting nutrients and can actually help you in losing weight!!

Well, here are five reasons to include groundnuts in your diet-
Reduces body fats- as it contains healthy mono & polyunsaturated fats
Promotes heart health – as it contains polyphenols and antioxidants
Reduces gall stone formation
High on varied B-complex vitamins like thiamine, folic acid and minerals
High on Vitamin E which improves skin health
Since peanuts are high on fats it's important you have just a handful of them every day. You can have peanuts either roasted, boiled or in form of roasted powder over salads or subzis.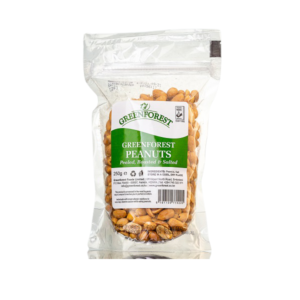 | | | |
| --- | --- | --- |
| Product | Size | Price |
| GFF Peeled & Salted Peanuts | 25G | 16 |
| GFF Peeled Peanuts- Salted | 50G | 33 |
| GFF Peeled Peanuts- Salted | 100G | 55 |
| GFF Peeled Peanuts- Salted | 200G | 124 |
| GFF Peeled Peanuts- Salted | 250G | 183 |
| GFF Peeled Peanuts- Salted | 500G | 342 |